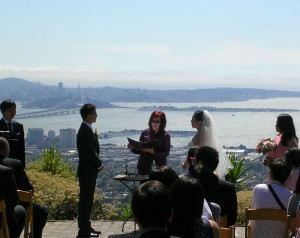 Hello, and congratulations on embarking on the journey toward your wedding! I'm Robyn Greene. As a wedding officiant it is my joy to guide you in all aspects of your ceremony. I will be with you every step of the way. I will design a ceremony with you, one that will touch on each of you separately, as well as reflect who you are as a couple.
How did I get started doing this? You might say I began at the time of my own wedding. I got married in the state of Florida because many of my family members resided there. I didn't know any officiants in the area and was nervous about trying to find one. I didn't really know what to look for! But I managed to find one who was able to connect with us on an emotional level very quickly. He was also very flexible and welcomed input from us. So we co-created a beautiful ceremony that people are still talking about, many years later. In fact, one of my relatives was so moved by the ceremony that he suggested that I start a business writing weddings. I didn't do it then, but I never forgot his suggestion.
In fact, I have always loved ritual and ceremony. I'm a former San Francisco Bay Area Marriage and Family Therapist, who did both individual and couples counseling. I also have a music (voice) and theater background. And a few years ago I began to seriously study the craft of designing meaningful and personalized wedding ceremonies through the Celebrant Institute. I bring my skills and training in all of these areas to making your ceremony totally come alive and be unique to you and your partner. I use my therapist training to help you feel supported, understood, and calmer throughout the process, including and especially on your wedding day. With my musical background, I can assist you in finding the perfect music for you (and even sing some of it for you too, if that's something you would want). And with my theater experience I can really bring the experience alive and make it moving and engrossing.
It will be a ceremony that neither you nor your guests will ever forget. And that's what you want, because a wedding is one of the most important events in your life. And your guests get to feel closer to you by sharing these special moments with you.