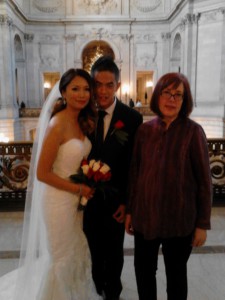 Weddings are the primary ceremony that I perform. I find that some couples I work with like a more traditional ceremony, while others prefer to create their own, based on who they are and how they see themselves. With me as your officiant, you can have whatever style you would like! I am happy to officiate at both straight and same-sex weddings. Some of my couples describe themselves as spiritual, but not religious. And others have been completely sectarian or humanist. There are many options open to you. Some ceremony styles are romantic and some are humorous. I will show you examples of different types of ceremonies and wedding customs and help you decide on what fits you best.
That said, there are certain types of weddings that I specialize in. I tend to focus more on the smaller or boutique wedding, rather than huge gatherings. Some couples prefer not to have any guests at all! I am available to do elopements, which can be more spur of the moment ceremonies.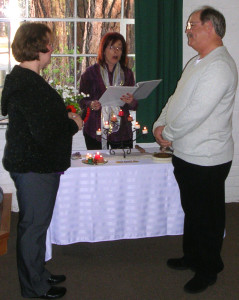 Earth based ceremonies are for those who love nature and natural settings and want to incorporate aspects of this in their wedding. These could include Native American style, Goddess-based, Druid and pagan style weddings. Or anything else that incorporates a nature or divine nature theme.
Intercultural or interfaith weddings are more and more common and I enjoy performing them. As a Celebrant I have learned a great deal about rituals and customs of various cultures, as well as how to blend those traditions.
Related ceremonies include vow renewals, anniversaries, engagements, etc.
Services for my couples include:
Meeting in person or via Skype for a no-obligation interview to discuss your vision of the ceremony and to see if we are a good fit
Listening and taking notes as I learn about your personal story
Access to me by phone or email from the time you hire me right up to the ceremony
Consulting with you until the ceremony is just right
Providing a keepsake copy of the ceremony
Read
View reviews:
in