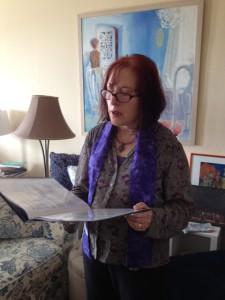 Certified life-cycle Celebrants are professional ceremony officiants who use the power and effectiveness of ceremony and ritual to make our lives richer and more meaningful. We have a solid background in the history of ritual and ceremony and the traditions of many cultures, beliefs and religions. We perform many different types of ceremonies. We particularly help people in times of transition from one life passage to another, but also create ceremonies for any occasion. Or just to celebrate everyday life in a more meditative or conscious way. We draw upon ceremonies from all over the world. We collaborate with our clients to create and perform personalized ceremonies that reflect their beliefs, philosophy of life and personalities.
In addition to weddings, I officiate at many different types of life-cycle ceremonies and rituals, including baby namings and adoption ceremonies, ceremonies for new moms and dads, coming of age ceremonies, funerals and memorials. I also create ceremonies to honor job or career changes, for corporate events, retirement, blessing new homes, etc. In addition, I use my ceremonial gifts to aid in healing and recovery from personal or community trauma. There are many opportunities to use ceremony to create connections among families and communities, and for healing and celebration.
How is a Celebrant Ceremony Unique? What Makes Us Different From Other Officiants?
Each Celebrant ceremony is personal, reflecting who the honorees are as individuals, couples, or families. Celebrants, certified by the Celebrant Foundation & Institute, will take the time to understand your beliefs and values and what makes you unique.
In a Celebrant ceremony my clients are empowered. Nothing is imposed on you. Instead, in a collaborative process, I guide you in choosing rituals, readings, symbols and music to fulfill your ideals and vision for your Ceremony. You have final approval over every word of your Ceremony. No two Celebrant ceremonies are the same.
*Information used with permission from The Celebrant Foundation & Institute.